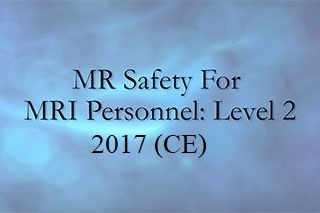 Advanced MRI Safety 2017 (CE)
Course Format:
Online Video
Course Category:
*Compliance, *Imaging, MR Safety, Radiology, MRI
Accreditation:
This course is accredited by The Association for Medical Imaging Management (AHRA).
Course Release Date:
January 16, 2017
Course Expiration Date:
January 31, 2018
Program Summary:
This 1.5 hour comprehensive course is designed for physicians, technologists, as well as ancillary medical staff. The course explains the most current American College of Radiology Guidelines and the alignment with the Joint Commission Sentinel Alert. The course also defines healthcare roles as recommended by the ACR for each facility. Within this course the three main magnetic fields: static, gradient, and radio frequency will be defined and discussed within the context as it relates to patient and personnel safety. An explanation as determined by the American Society for Testing and Materials (ASTM) for labeling of implants and devices will be defined and how testing is conducted will be explained. Finally, this course clearly defines roles of the MR Safety Certification as defined by the American Board of Magnetic Resonance Safety (ABMRS) and how this certification is achieved.
This version of the course provides CE credits.
If your looking for CME credit instead click here.
Objectives
11
Discuss American College of Radiology (ACR) current guidelines
Understand the role of the Joint Commission alignment with the ACR
Explain types of forces exerted on ferrous objects
Educate gradient magnetic fields and their role in MR Safety
Understand the RF Transmit Field along with Specific Absorption Rate
Define and expand on the difference between MR Safe, MR Unsafe, and MR Conditional
Explain conditions surrounding particular implants and devices and B1rms
Introduce MR Certification through the American Board of Radiology and explain the 3 levels of certification
---
Users enrolled in Advanced MRI Safety 2017 (CE) also enrolled in...
---
Course Credit: 1.00
Program Summary: This video program is designed for radiology and nuclear medicine professionals who work with Computed Tomography. Parameters which affect patient radiation dose in CT are discussed along with techniques and strategies for minimizing the patient rad...
Program Summary: Get your Annual Imaging Library Pass to start achieving your continuing medical education goals today. Stream from top CME and CE course producers. Just like using your favorite app to stream television shows and movies. Start achieving your goals today. One price, one place for all of your medical education needs.
Course Credit: 1.00
Program Summary: Introduction / Lecture Goals – Purpose MRI's 3 fields and their risksMain static magnetic field Radiofrequency field Imaging Gradient fieldsWhat is SAR?Definition FDA limits Manufacturer operatin...