Managing Patient Radiation Dose in CT - 2017 (CE)
Course Format:
Online Video
Course Category:
*Imaging
Accreditation:
This course is accredited by The Association for Medical Imaging Management (AHRA).
Course Release Date:
February 24, 2017
Course Expiration Date:
March 31, 2019
Program Summary:
This video program is designed for radiology and nuclear medicine professionals who work with Computed Tomography. Parameters which affect patient radiation dose in CT are discussed along with techniques and strategies for minimizing the patient radiation dose. Metrics for measuring exposure and estimating dose are explained along with methods for radiation dose monitoring, tracking and reporting.
Objectives
Describe the impact of the development of CT with regard to neuroimaging
List the technical parameters which affect CT dose
Describe the effect of CT dose on CT image quality
Define stochastic and deterministic effects
Describe several methods for reducing CT radiation dose
Define the various measures of CT radiation dose
Describe how software programs can be utilized in CT dose monitoring, tracking and reporting
---
Users enrolled in Managing Patient Radiation Dose in CT - 2017 (CE) also enrolled in...
---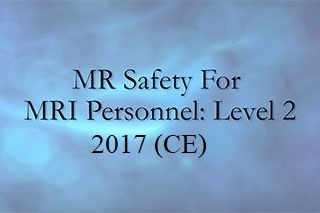 Course Credit: 1.50
Program Summary: This 1.5 hour comprehensive course is designed for physicians, technologists, as well as ancillary medical staff. The course explains the most current American College of Radiology Guidelines and the alignment with the Joint Commission Sentinel Alert...
Course Credit: 4.00
Program Summary: This is a four (4) CEU course covering radiation safety in the clinical uses of fluoroscopy for radiologic technologists. It is presented using actual demonstrations with the c-arm in the OR, or in the fluoroscopic or interventional suites, as well a...
Course Credit: 1.00
Program Summary: Cadaver heart images combined with graphic cardiac images are used to depict critical and functional heart anatomy and physiology. The "What Happens When" segment stresses the correlation of the cardiac cycle with the electrical conductio...